Dr. Hamdan is a well-known licensed therapist and a Ph.D. scholar. She is considered a foremost expert in treating trauma, spiritual bypassing, and personal development. Her passion for helping people drives her each day and has forced her to extend her role, reach out to more people and enter the field of social media influencing as an educational content creator.
As an American Muslim herself, Dr. Hamdan noticed that many Muslims, including herself, are culturally taught to turn to religion when something bad happens to them. However, when this happens they bypass the psychological layer and turn to spiritual practices only to feel better. As a result, spiritual practices are immature and the pain becomes dormant, never resolved. Instead, people will continue to act out their pain in unhealthy ways. For example, if someone experienced childhood bullying, no matter how much they pray or go to the mosque it will not heal their scars or wounds of feeling not good enough or worthy. The only way is to work through the childhood pain that is still being acted out in the present. Traditional therapy tries to get people to "talk about it"; however, Dr. Hamdan found that to not be effective. Having experienced her own insecurities and psychological issues earlier in life, she personally understands the complexity of mental health healing. 
Her own research and life has found that true healing requires a "Total Intelligence" treatment approach, which integrates all areas, spiritual, psychological, physical, and emotional. She continually uses different psychological modalities, Islamic wisdom, neuroscience, and leadership concepts to treat and heal clients. She also provides her skills to train other mental health clinicians on different healing modalities, such as neurofeedback, heart math, internal family systems, etc.
Demystifying the process as an educator 
Dr. Hamdan's clients influenced her to get online and share her knowledge with a wider audience and began sharing her thought-provoking content on her Instagram handle @brainhealthdoc. It inspires thousands to live a more conscious life that is ten times more fulfilling. She curates knowledgeable content that breaks down the process of personal development. It intends to heal inner wounds, empower the audience and help heal from both the known and the unknown traumas.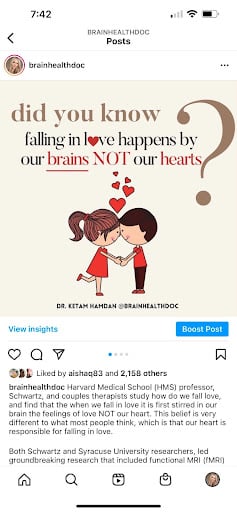 Her content is easily accessible to people from all spheres of life. Mental health treatment and awareness must
 not be confined within the walls of clinics and hospitals. Dr. Hamdan wants to help all those who cannot afford mental health services and seek general awareness around the human mind, relationships, and healing. 
Changing lives through therapy 
Through her passion for sharing knowledge with others, Dr. Hamdan coaches other therapists who desire practical, brain-based skills that help them overcome mental and emotional roadblocks so they can reach their full potential. She is aware that modern man is so entrenched in the ' rat race' that he has become more vulnerable to declining mental health. 
Dr. Hamdan provides a practical intervention that helps her clients achieve long-term success. As a therapist, she is actively involved in transforming people who are already successful by society standards to be even more successful because they are in tune with their core self and higher self. She influences people to live more meaningful lives. 
Sharing her ultimate goal in life, she said, "I see what I am doing as my life work, my purpose is to help transform people to be more whole and better humans that leads to a more fulfilling life. I inspire people to look inside and think higher. Thinking higher is twofold; I guide people to aim higher for one's life and to lead a life serving a higher purpose."
You can access Dr. Hamdan's wisdom and valuable insights on psychology, brain science, and inner healing on her Instagram handle @brainhealthdoc or website www.brainhealthgrowth.com